Start Your Virtual Visit Today!
---
Requirements: The Virtual Visit requires Google's

Chrome Browser. Please Download it HERE and then navigate back to our Virtual Visit page (www.walkincares.com/virtual-visit). Virtual Visits are accessible on laptops, mobile phones and tablets 24/7, 364 days a year.
---
Note: Non-local providers will be conducting virtual visits after 4pm and on weekends. **If you are a Direct Primary Care patient, Walk-In-Care virtual visits are excluded from your DPC coverage.**
Stay Home and See a Doctor!

Welcome to Walk-In-Care's newest service, Virtual Health! Now, you can see the doctor without having to leave the comfort of your home or interrupt your busy schedule. Walk-in-Care is all about convenience in order to help you navigate your busiest of days. Select whether you want to start your virtual visit as soon as possible or schedule it for a later time (or day) that works better for you! Keep reading to learn more about how our virtual visits work.
Staffed by providers you know from our Walk-In Care offices, our new virtual health option will allow you to have access to a doctor at any time, 365 days of the year. Thanks to our partnership with Privia Medical Group, your coverage can go beyond our office hours and extend into the night.
Our Virtual Health Visits cover symptoms such as:
Allergies (Seasonal)
Asthma
Bites & Stings
Cold, Cough, & Flu
Fever
Minor Injuries or Illness
Rash & Hives
Sore Throat
Sprains or Strains
Urinary Tract Infection (UTI)
See Our Virtual Visit Process
Interested in learning more about how our virtual visits work? No worries! Click the button below to see our process!
FAQs
When is it appropriate to schedule a virtual visit?
Virtual visits are appropriate for a variety of care needs, including urgent care, routine follow-up visits, chronic disease management, medication management, reviewing test or lab results, and lifestyle coaching. Common illnesses including sinus problems, respiratory infections, allergies, cold and flu symptoms and many other non-emergency illnesses can be treated virtually. Contact your doctor to understand how virtual visits will work best for you.
What conditions can we treat?
What conditions can we not treat?
What do I need for a virtual visit?
What can I expect during my visit?
Can I use my insurance plan?
What payment methods do you accept?
Troubleshooting
I am having trouble seeing or hearing my provider
Remember to use a device with a webcam, microphone and strong internet connection, such as a laptop, mobile phone or tablet. For the optimal experience, use the Google Chrome web browser on your laptop or desktop computer. If using a mobile device or tablet, download the myPrivia mobile app in the Apple or Google Play app store.
If prompted by your device, be sure to 'allow' the technology access to your webcam and microphone.
The video quality is poor or connection is dropping
I never received a message for my visit
I am unable to join my virtual visit
Who can I contact for help?
CONVENIENCE IN THE PALM OF YOUR HAND!
Walk-In-Care is proud to announce the launch of their new app! Now patients and visitors have even more convenience, right in the palm of their hand. The app is available on both Google Play and Apple Store! Download it today!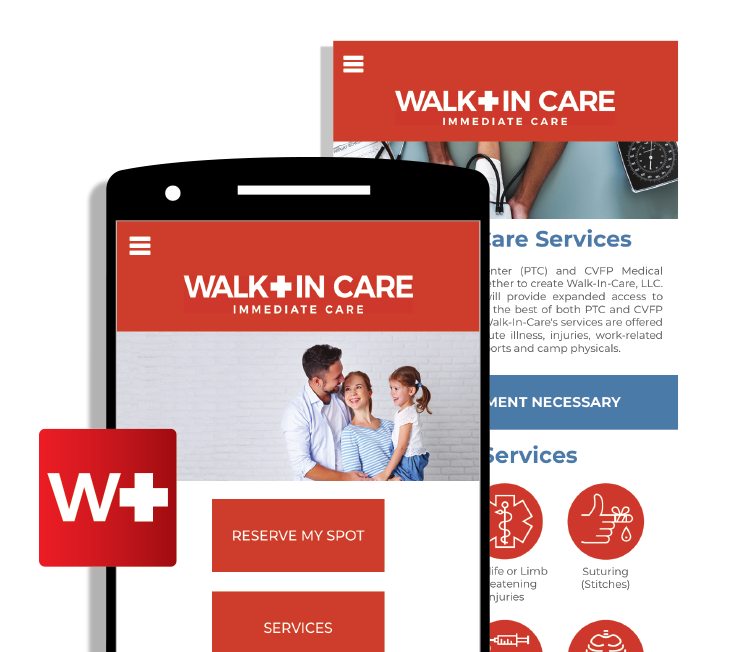 Four Convenient Locations