Prevention, Wellness and Disease Management
Your company or organization is only as healthy as its employees. Healthy people are happier and more productive. When it comes to health and wellness, Collaborative Health Partners (CHP) is here to help and guide your employees to finding a path to a better and healthier life. Annual wellness visits give our primary care providers a chance to assess the patients' health status and provide guidance in such things as smoking cessation, food and diet, and goal setting for a healthier lifestyle.
We offer a wide array of Wellness/Prevention Solutions:
Health Risk Assessments
Employee Flu Shots
Physical Therapy Assessments
Employee Health Programs
Prevention is a key part of wellness.
Prevention, wellness, and disease management have moved into the forefront of health over the years as research continues to show the significant benefits of lifestyle changes on health. Lifestyle changes, including increased physical activity, can lead to health benefits in those with chronic disease, prevent or manage a number of noncommunicable diseases, and lead to an increased quality of life.
Start Providing Better Healthcare Value to Your Employees
Let us be your partner when it comes to quality healthcare in Central Virginia! Becoming a part of our network gives you and your employees access to a number of established clinical pathways, from our primary care physicians to a variety of specialty care options.

Walk-In-Care provides services to Employees (on behalf of their employers) through direct contracts or through Collaborative Health. If your employer directs you to Walk-In-Care for Workers' Comp services, please note that when making an appointment and/or at check-in. If you have been sent for a test, such as a drug test, please make sure to inform us at check-in.
CONVENIENCE IN THE PALM OF YOUR HAND!
Experience even more convenience right in the palm of your hand! The Walk-In-Care app is available on both Google Play and the Apple App Store! Download it today!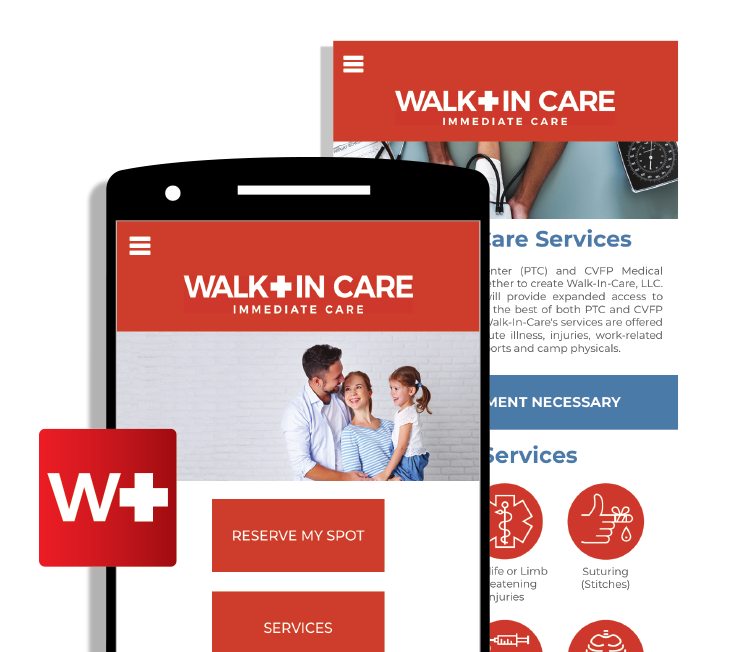 Four Convenient Locations