Walk-In-Care offers two diagnostic centers for easy employee access and convenience. These diagnostic centers offer a variety of Diagnostic Testing options including ultrasounds and bone density testing. See a full list of services below.
Both centers will have immediate access to your files. Our facilities are properly licensed and qualified to provide all of the listed services.
Services Include:
MRI
CT
X-Ray/Fluoroscopy
Ultrasound
Bone Density Testing
Interventional Radiology
Start Providing Better Healthcare Value to Your Employees
Let us be your partner when it comes to quality healthcare in Central Virginia! Becoming a part of our network gives you and your employees access to a number of established clinical pathways, from our primary care physicians to a variety of specialty care options.

Walk-In-Care provides services to Employees (on behalf of their employers) through direct contracts or through Collaborative Health. If your employer directs you to Walk-In-Care for Workers' Comp services, please note that when making an appointment and/or at check-in. If you have been sent for a test, such as a drug test, please make sure to inform us at check-in.
CONVENIENCE IN THE PALM OF YOUR HAND!
Experience even more convenience right in the palm of your hand! The Walk-In-Care app is available on both Google Play and the Apple App Store! Download it today!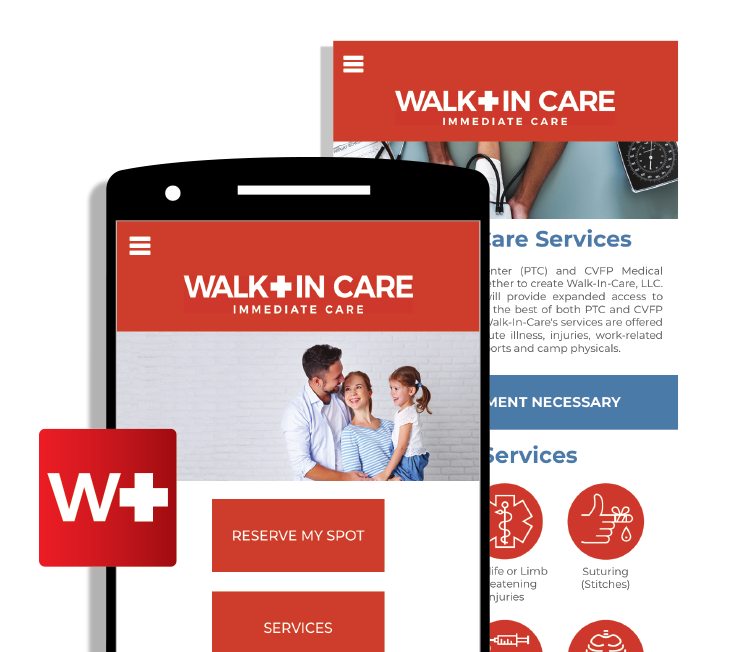 Four Convenient Locations