Better Care. Focused Care. Exceptional Care... for Your Employees.
Our Direct Care program, by Collaborative Health Partners (CHP), provides enhanced primary care services designed to improve the scope of health benefits while reducing the costs of healthcare for employees and employers. This direct primary care model aims to improve access to preventive care, sick care, physician-directed wellness resources, and physician-directed disease management services at no out-of-pocket costs to you, the employee. This simplification of providing direct primary care gives employees more direct, individually focused, and custom access to their primary care provider.
Direct Primary Care gives family physicians a meaningful alternative to fee-for-service insurance billing, typically by charging patients a monthly, quarterly, or annual fee. This fee covers all or most primary care services and can include some clinical and laboratory services, consultative services and other associated care costs. CHP works with your company or organization to find the best ways to serve your group. Our innovative approach helps maximize your overall healthcare costs and provide a higher level of care from our larger partner group that covers all of Central Virginia.
Why Direct Care?
Simply, Direct Care benefits patients by providing substantial savings and a greater degree of access to, and time with, physicians— Something often lost in todays large healthcare organizations. This system allows family physicians to better focused care for each patient while reducing the overhead and negative incentives associated with fee-for-service third-party-payer billing.
Direct Primary Care can lower healthcare costs in many ways, including:
Reducing unnecessary emergency room visits
Better chronic care management which reduces the cost of high-risk conditions
Providing referrals to high-value specialists
Reducing costly complications by identifying and supporting high-risk and at-risk individuals
Start Providing Better Healthcare Value to Your Employees
Let us be your partner when it comes to quality healthcare in Central Virginia! Becoming a part of our network gives you and your employees access to a number of established clinical pathways, from our primary care physicians to a variety of specialty care options.

Walk-In-Care provides services to Employees (on behalf of their employers) through direct contracts or through Collaborative Health. If your employer directs you to Walk-In-Care for Workers' Comp services, please note that when making an appointment and/or at check-in. If you have been sent for a test, such as a drug test, please make sure to inform us at check-in.
CONVENIENCE IN THE PALM OF YOUR HAND!
Experience even more convenience right in the palm of your hand! The Walk-In-Care app is available on both Google Play and the Apple App Store! Download it today!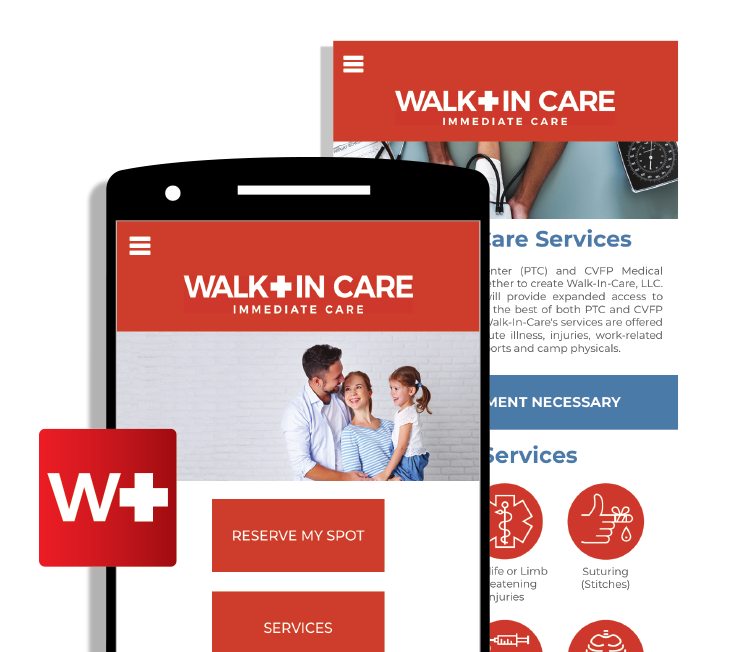 Four Convenient Locations