First Time to Our Office?
When you come to our office for the first time as a new patient, we'll ask you to complete some initial forms, including an Authorization and Consent for Treatment form.
Remember to bring:
Your insurance card
Valid photo ID
List of current medications
Office co-pay
In an effort to respect the time of all of patients, our staff strives to stay on schedule so that other patients do not have to wait.
Office Policies
Financial Policy (PDF) - This form advises patients of their complete financial responsibility for all medical services received without regard to insurance eligibility or coverage determinations.
Notice of Privacy Practices (PDF) - Describes how health information about you (as a patient of this Care Center) may be used and disclosed, and how you can get access to your individually identifiable health information. Please review this notice carefully. Aviso de prácticas de privacidad (PDF)
COVID Information
Need access to COVID resources for Lynchburg and Central Virginia? Click the button below.
Learn More About Our Primary Care Locations
Did You Know? Walk-In-Care is associated with two of the top local primary care providers in the area? Operated by both Central Virginia Family Physicians (CVFP) Medical Group and Physicians Treatment Center (PTC), you have the ability to become a patient at either one. To learn about either primary care provider, click on their logo below.
CONVENIENCE IN THE PALM OF YOUR HAND!
Experience even more convenience right in the palm of your hand! The Walk-In-Care app is available on both Google Play and the Apple App Store! Download it today!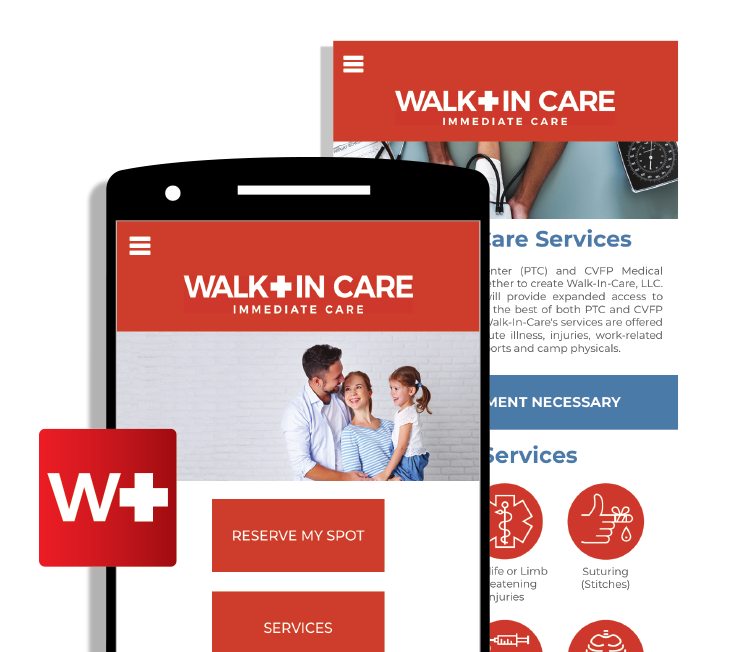 Four Convenient Locations