Physical Therapy For The Workplace
Employee Occupational Therapy
Make sure you are fulfilling your daily work requirements in a healthy manner! Collaborative Health Partners' (CHP's) Rehab Associates of Central Virginia (RACV) ensures each employee is provided with the most up-to-date information to properly care for yourself, regardless of the environment in which you work. We will take the time to evaluate your workspace and ensure safety precautions and measures are in place to prevent injury. By taking these preventative measures, you gain the security to know you are working in a safe environment and have the education to properly protect yourself from harm. Our services cover numerous business industries to establish best practices for day-to-day activities.
Occupational Therapy Services Include:
Back Pain
Concussion
Foot & Ankle Pain
Head, Neck and Facial Pain
Health & Fitness Education
Orthotics
Each of these services will be based on referral by one of our Walk-In-Care providers. To learn more about Rehab Associates of Central Virginia, please visit their website.
Start Providing Better Healthcare Value to Your Employees
Let us be your partner when it comes to quality healthcare in Central Virginia! Becoming a part of our network gives you and your employees access to a number of established clinical pathways, from our primary care physicians to a variety of specialty care options.

Walk-In-Care provides services to Employees (on behalf of their employers) through direct contracts or through Collaborative Health. If your employer directs you to Walk-In-Care for Workers' Comp services, please note that when making an appointment and/or at check-in. If you have been sent for a test, such as a drug test, please make sure to inform us at check-in.
CONVENIENCE IN THE PALM OF YOUR HAND!
Experience even more convenience right in the palm of your hand! The Walk-In-Care app is available on both Google Play and the Apple App Store! Download it today!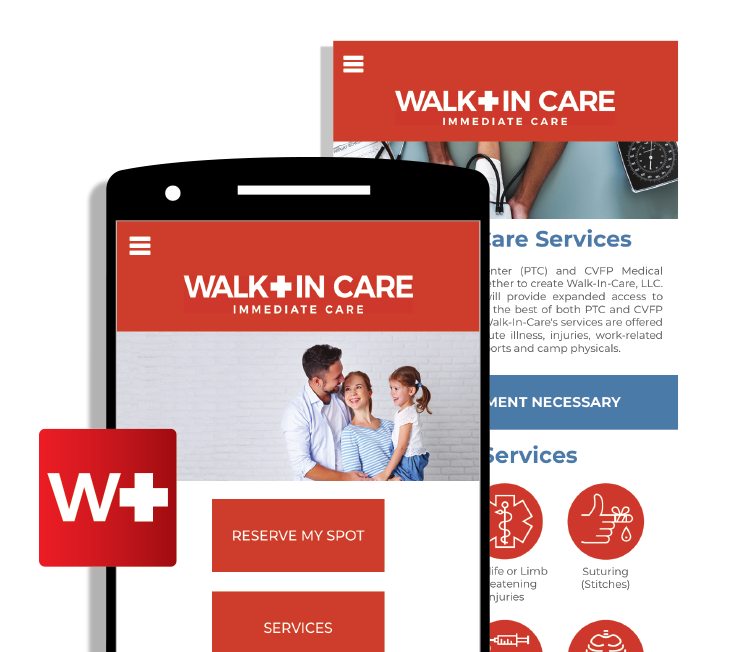 Four Convenient Locations