Make sure your expenses are covered the next time you have a work-related injury! Workers' compensation (workers' comp) is a form of accident insurance that is provided by employers for their employees in case of accident or injury at work.
We offer customized workers' compensation programs to employers that allow for extended access to our doctors 363 days a year.
Our doctors are staffed and ready to help you recover from your incident. Should you have a life or limb-threatening injury, please call 911 right away! Based on the need, employees may be referred to another division of the Collaborative Health Partners Network.
Talk to your employer to learn more about your company's specific workers' comp policies!
Start Providing Better Healthcare Value to Your Employees
Let us be your partner when it comes to quality healthcare in Central Virginia! Becoming a part of our network gives you and your employees access to a number of established clinical pathways, from our primary care physicians to a variety of specialty care options.

Walk-In-Care provides services to Employees (on behalf of their employers) through direct contracts or through Collaborative Health. If your employer directs you to Walk-In-Care for Workers' Comp services, please note that when making an appointment and/or at check-in. If you have been sent for a test, such as a drug test, please make sure to inform us at check-in.
CONVENIENCE IN THE PALM OF YOUR HAND!
Walk-In-Care is proud to announce the launch of their new app! Now patients and visitors have even more convenience, right in the palm of their hand. The app is available on both Google Play and Apple Store! Download it today!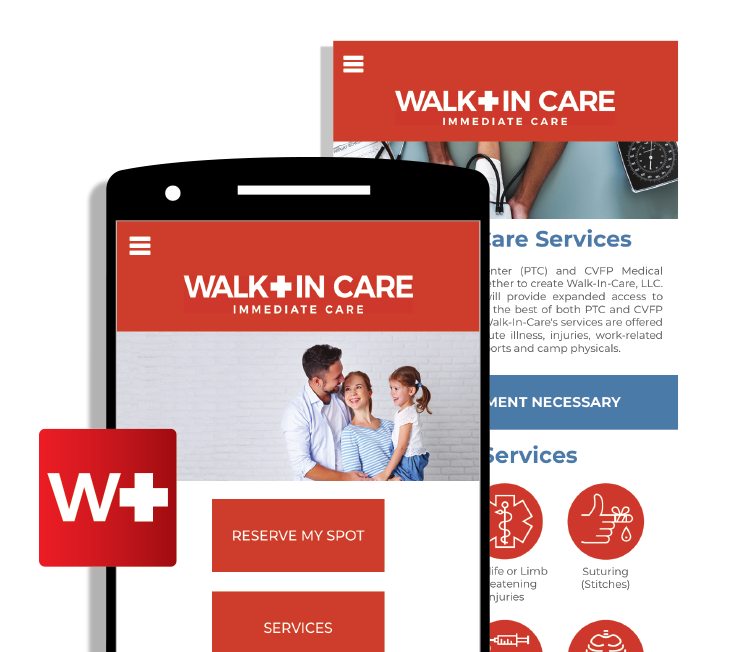 Four Convenient Locations