Physician's Treatment Center (PTC) and CVFP Medical Group have partnered together to create Walk-In-Care, LLC. This collaborative effort will provide expanded access to Central Virginia and blend the best of both PTC and CVFP Immediate Care Centers. Walk-In-Care's services are offered seven days a week for acute illness, injuries, work-related accidents, and also DOT, sports and camp physicals.
Save Money
Walk-In-Care patients have access to CVFP Medical Group's Laboratory and Diagnostic Center, which are both 1/3 the cost of most competing regional services.


Onsite Laboratory Services


Sports Physicals and Certified DOT Exams


Non-life or Limb Threatening Injuries

For life-threatening emergencies, call "911" or proceed to the nearest emergency department.
MAJOR INSURANCES ACCEPTED
Aetna (No HMO Plans)
Anthem
Cigna
Humana
Medicare (No Commercial Plans)
Piedmont Community Health Plan
Coventry Health Care (No Medicaid)
United HealthCare
OptimaHealth (No Medicaid)
HOSPITAL AFFILIATIONS
Lynchburg General Hospital
Virginia Baptist Hospital
CONVENIENCE IN THE PALM OF YOUR HAND!
Walk-In-Care is proud to announce the launch of their new app! Now patients and visitors have even more convenience, right in the palm of their hand. The app is available on both Google Play and Apple Store! Download it today!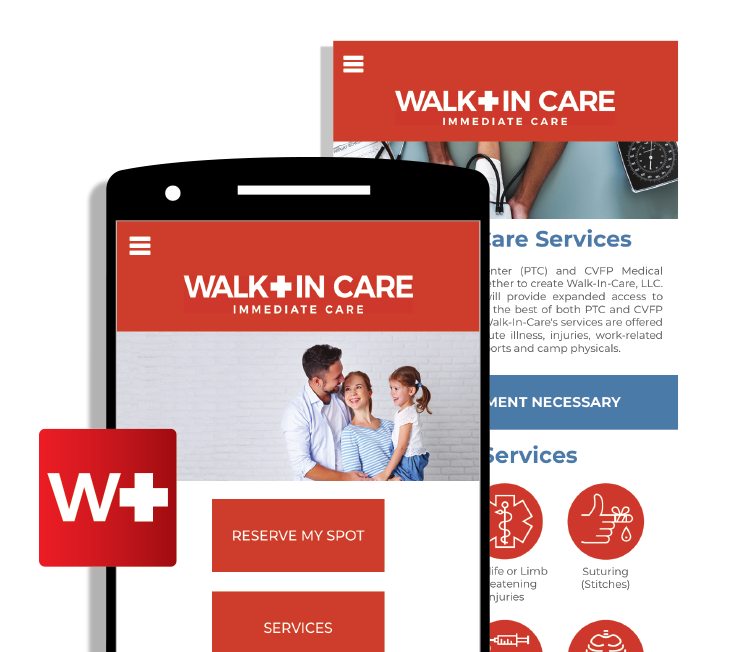 Five Convenient Locations
AMHERST
816 South Main Street
Amherst, VA 24572
434.473.7700
434.946.2280
CANDLERS MOUNTAIN
2832 Candlers Mountain Road
Lynchburg, VA 24502
434.473.7700
434.239.6982
FOREST
1175 Corporate Park Dr
Forest, VA 24551
434.473.7700
434.534.6898
MADISON HEIGHTS
Temporarily Closed
118 Oakwood Drive
Madison Heights, VA 24572
434.473.7700
434.338.7781
WARDS ROAD
14005 South Wards Road
Suite A
Lynchburg, VA 24501
434.473.7700
434.239.0490