PLEASE NOTE: Our Forest care center is temporarily closed.
For COVID-19 resources please CLICK HERE.
Amherst
Monday

8:30AM - 4:30PM

Tuesday

8:30AM - 4:30PM

Wednesday

8:30AM - 4:30PM

Thursday

8:30AM - 4:30PM

Friday

8:30AM - 4:30PM

Saturday

Closed

Sunday

Closed
Holidays - This office will be closed on the following holidays: Thanksgiving Day, Christmas Day, and New Year's Day.
For life-threatening emergencies, call "911" or proceed to the nearest emergency department.

Providers at this Location
MAJOR INSURANCES ACCEPTED
Aetna (No HMO Plans)
Anthem
Cigna
Humana
Medicare (No Commercial Plans)
Piedmont Community Health Plan
Coventry Health Care (No Medicaid)
United HealthCare
OptimaHealth (No Medicaid)
HOSPITAL AFFILIATIONS
Lynchburg General Hospital
Virginia Baptist Hospital

Powered by Physicians Treatment Center
CONVENIENCE IN THE PALM OF YOUR HAND!
Walk-In-Care is proud to announce the launch of their new app! Now patients and visitors have even more convenience, right in the palm of their hand. The app is available on both Google Play and Apple Store! Download it today!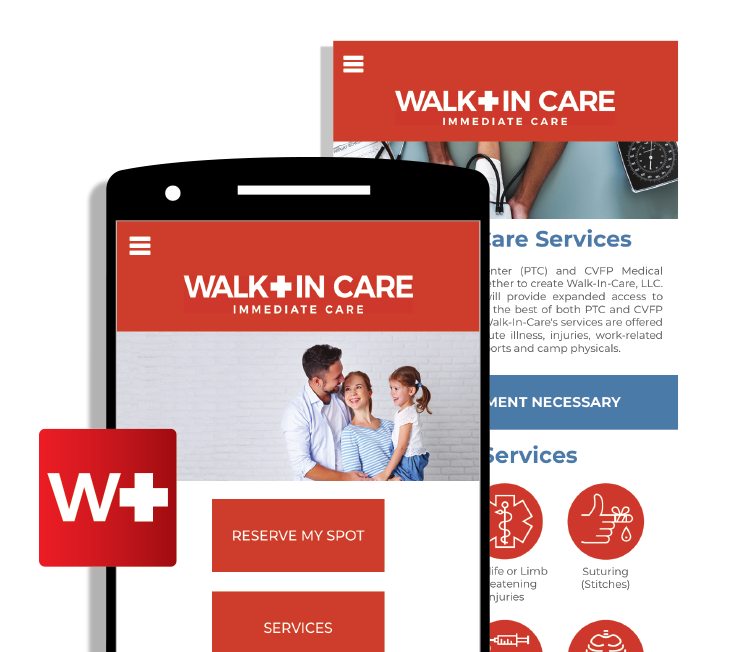 No Appointment Necessary.
We offer immediate care for illnesses, injuries, and most of your medical needs. We will coordinate your care with your primary provider so they are aware of your visit.