A Health Solution to Fit Your Busy Schedule!

Welcome to Walk-In-Care's newest service, Virtual Health! Now, you can see the doctor without having to leave the comfort of your home or interrupt your busy schedule. Walk-in-Care is all about convenience in order to help you navigate your busiest of days.
Staffed by medical professionals throughout Central Virginia, our new virtual health option will allow you to have access to a doctor at any time, 365 days of the year. Thanks to our partnership with Privia Medical Group, now your coverage can go beyond our office hours and can extend into the night.
Our Virtual Health Visits cover symptoms such as:
Cold or Cough
Hypertension
Sore Throat
Gastrointestinal Issues
Non-Life or limb threatening injuries
SCHEDULE A VIRTUAL VISIT
In need of assistance for a health concern? Schedule a virtual visit with one of our doctors.
Service offered 24/7, 364 days a year.

Step 1:
Visit the Walk-In-Care Website

Step 2:
Click "Reserve My Spot"

Step 3:
Fill Out Requested Information

Step 4:
Enter the Virtual Waiting Room

Step 5:
Speak to Your Doctor

Step 6:
Continue with Your Day
FAQs
When is it appropriate to schedule a virtual visit?
Virtual visits are appropriate for a variety of care needs, including urgent care, routine follow-up visits, chronic disease management, medication management, reviewing test or lab results, and lifestyle coaching. Common illnesses including sinus problems, respiratory infections, allergies, cold and flu symptoms and many other non-emergency illnesses can be treated virtually. Contact your doctor to understand how virtual visits will work best for you.
What do I need for a virtual visit?
What can I expect during my visit?
Troubleshooting
I am having trouble seeing or hearing my provider
Remember to use a device with a webcam, microphone and strong internet connection, such as a laptop, mobile phone or tablet. For the optimal experience, use the Google Chrome web browser on your laptop or desktop computer. If using a mobile device or tablet, download the myPrivia mobile app in the Apple or Google Play app store.
If prompted by your device, be sure to 'allow' the technology access to your webcam and microphone.
The video quality is poor or connection is dropping
I never received a message for my visit
I am unable to join my virtual visit
Who can I contact for help?
CONVENIENCE IN THE PALM OF YOUR HAND!
Walk-In-Care is proud to announce the launch of their new app! Now patients and visitors have even more convenience, right in the palm of their hand. The app is available on both Google Play and Apple Store! Download it today!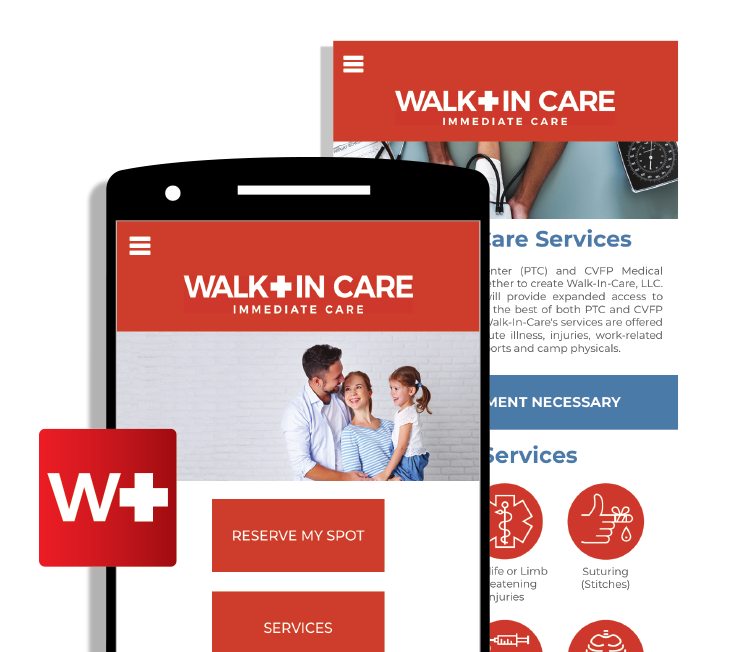 Five Convenient Locations
AMHERST
816 South Main Street
Amherst, VA 24572
434.473.7700
434.946.2280
CANDLERS MOUNTAIN
2832 Candlers Mountain Road
Lynchburg, VA 24502
434.473.7700
434.239.6982
FOREST
1175 Corporate Park Dr
Forest, VA 24551
434.473.7700
434.534.6898
MADISON HEIGHTS
118 Oakwood Drive
Madison Heights, VA 24572
434.473.7700
434.338.7781
WARDS ROAD
14005 South Wards Road
Suite A
Lynchburg, VA 24501
434.473.7700
434.239.0490