Our Physical and Testing Services include:
Employment Physicals
Fit for Duty PE
Urine Drug Screening

Federal
Non-Federal 12 Panel Same-Day Reporting
Medical Review Officer Services
Breath Alcohol Testing

Certified DOT Testing
Referral to Rehab Associates of Central Virginia
Functional Capacity Exams
Return to Work Functional Assessment
Job Transfer Testing
Start Providing Better Healthcare Value to Your Employees
Let us be your partner when it comes to quality healthcare in Central Virginia! Becoming a part of our network gives you and your employees access to a number of established clinical pathways, from our primary care physicians to a variety of specialty care options.

Walk-In-Care provides services to Employees (on behalf of their employers) through direct contracts or through Collaborative Health Partners. If your employer directs you to Walk-In-Care for Workers' Comp services, please note that when making an appointment and/or at check-in. If you have been sent for a test, such as a drug test, please make sure to inform us at check-in.
CONVENIENCE IN THE PALM OF YOUR HAND!
Walk-In-Care is proud to announce the launch of their new app! Now patients and visitors have even more convenience, right in the palm of their hand. The app is available on both Google Play and Apple Store! Download it today!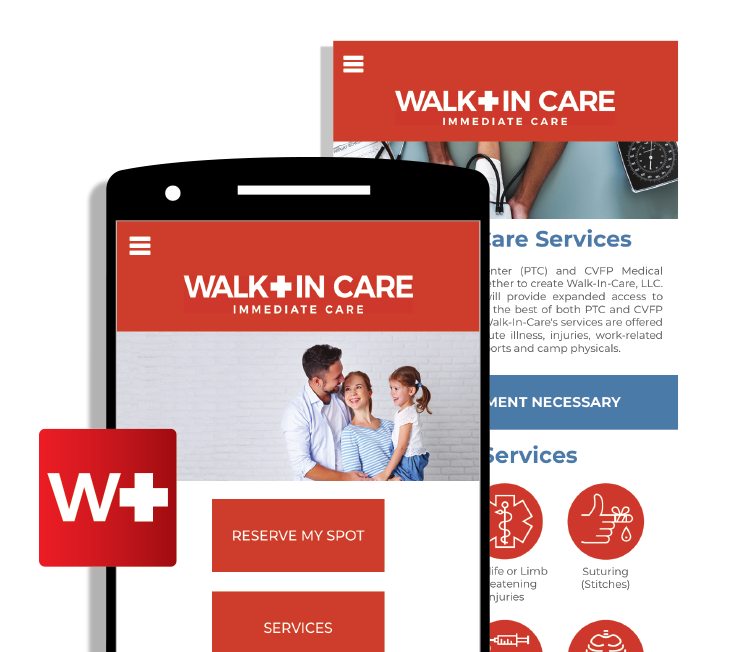 Four Convenient Locations
AMHERST
816 South Main Street
Amherst, VA 24572
434.473.7700
434.946.2280
CANDLERS MOUNTAIN
2832 Candlers Mountain Road
Lynchburg, VA 24502
434.473.7700
434.239.6982
FOREST
1175 Corporate Park Dr
Forest, VA 24551
434.473.7700
434.534.6898
WARDS ROAD
14005 South Wards Road
Suite A
Lynchburg, VA 24501
434.473.7700
434.239.0490